Winemaker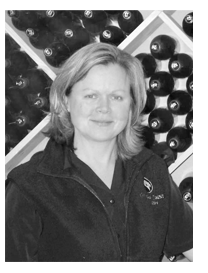 Deborah Hansen is the winemaker at Cougar Crest Estate Winery. Her first career began in the 1970′s as a pharmacist with a degree from Washington State University. The scientific preparation for being a pharmacist just happens to be a perfect match for the preparation to be a winemaker. Back in the 1970′s this connection was a long time from being discovered. True love intervened and Deborah married veterinarian David Hansen, also a graduate of Washington State University; their careers took them to the San Francisco area for almost 20 years.
While living in the Bay Area, they discovered a mutual love of wine, and agriculture and made plans to "move home" in the future. Northern California was burgeoning with wineries from Mendocino to Santa Barbara. Time off was spent being a wine tourist, studying the differences that terrior and winemaking styles can have on finished wine. While working and raising children in California, the Hansen's were busy making plans in the Walla Walla Valley, buying several small farms and planting apple orchards in the hopes of moving home some day.
In 1996, the dream became a reality and the family moved home. Raising children on the farms in a small community seemed idyllic until the apple markets plummeted, resulting in some difficult choices. The love of wine led to the decision to remove orchards and plant vineyards. The Hansens became a part of the wine community first by raising grapes, which led to dabbling in winemaking. Suddenly it was obvious that being a pharmacist had been the perfect training for winemaking. Deborah and David became consumed with plans to have their own winery, and it was apparent that Deborah had the skills for becoming the winemaker. She went back to school at UC Davis to take specialized enology classes. She found new passion for learning and the desire to excel at this ancient art of winemaking. It is the discovery of new wines and the challenges of new vintages that excite Deborah in her new career as winemaker at Cougar Crest Estate Winery.
HOMEPAGE
-ONLINE STORE
Cougar Crest wine is perfect for your next special occasion or just because!
Our online store makes it easy and secure to place your wine order today.
If you are interested in getting sale prices on all of your purchases, you should sign up for our wine club. Wine Club members are privilege to exclusive sales, promotional events, winemaker dinners, and 15% off all bottle purchases as well as 20% off any case purchase (mixed included).
-AWARD WINNING
Cougar Crest Estate Wines have been ranked in the top 100 wines in world.
Cougar Crest is consistently awarded top scores from publications such as Wine Spectator and has earned many prestigious medals and rankings at international wine competitions across the United States.
See more of the awards we have received.
-VINEYARDS
Cougar Crest operates three vineyards in the Walla Walla valley.
Cougar Hills Vineyard is located adjacent to the site of the original Seven Hills Vineyard planted 28 years ago that began the Walla Walla legacy of quality vineyards and wine grape production.

Golden's Legacy is named for the medical doctor who built the home in which Dave and Debbie now live. Dr. Golden and planted white wine grapes during Prohibition, and as a medical doctor he was able to prescribe wine for "medicinal purposes."

Rock Bottom is our newest vineyard and is a stones throw away from Cougar Hills Vineyard. It shares the same soil characteristics and weather similarities as Cougar Hills Vineyard, but four feet below the silt-loam surface soil there lies a rocky gravel bed that provides excellent water drainage.