Winemaker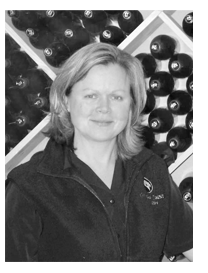 Deborah Hansen is the winemaker at Cougar Crest Estate Winery. Her first career began in the 1970′s as a pharmacist with a degree from Washington State University. The scientific preparation for being a pharmacist just happens to be a perfect match for the preparation to be a winemaker. Back in the 1970′s this connection was a long time from being discovered. True love intervened and Deborah married veterinarian David Hansen, also a graduate of Washington State University; their careers took them to the San Francisco area for almost 20 years.
While living in the Bay Area, they discovered a mutual love of wine, and agriculture and made plans to "move home" in the future. Northern California was burgeoning with wineries from Mendocino to Santa Barbara. Time off was spent being a wine tourist, studying the differences that terrior and winemaking styles can have on finished wine. While working and raising children in California, the Hansen's were busy making plans in the Walla Walla Valley, buying several small farms and planting apple orchards in the hopes of moving home someday.
In 1996, the dream became a reality and the family moved home. Raising children on the farms in a small community seemed idyllic until the apple markets plummeted, resulting in some difficult choices. The love of wine led to the decision to remove orchards and plant vineyards. The Hansen's became a part of the wine community first by raising grapes, which led to dabbling in winemaking. Suddenly it was obvious that being a pharmacist had been the perfect training for winemaking. Deborah and David became consumed with plans to have their own winery, and it was apparent that Deborah had the skills for becoming the winemaker. She went back to school at UC Davis to take specialized enology classes. She found new passion for learning and the desire to excel at this ancient art of winemaking. It is the discovery of new wines and the challenges of new vintages that excite Deborah in her new career as winemaker at Cougar Crest Estate Winery.